In 42 years of a long journey in the courier and logistics industry, it is truly crucial for us to keep up with the evolving technology. To move forward is the only thing any businesses should do to keep its relevance and to stay in the field. With the creation of mobile applications, be it in any kind of industry, it has truly eased the journey of every person who owns any type of mobile application, ever. People are now shopping, eating and even buying properties online.
City-Link Express has finally come up with the initiative to generate its own mobile application to ease the journey of customers when doing shipping online. With several interesting key features from the app, you won't have to go through all the hassle of doing everything from live tracking, creating Ship With Us ticketing, and purchase City-Link products on the desktop. You can simply do it in your own comfort via the City-Link Mobile App.
The City-Link Express Mobile App key features include:
Track & Trace: You will be assured of the whereabouts of your shipments with the live tracking feature by entering your given tracking number. Casually do this without surfing the City-Link website, as you can just login to the app instead!
Ship With Us: A user friendly e-form was created for you to effortlessly fill-in your shipment information. This online form can then be printed at home and be bought to the nearest branch for it to be scanned so there's no need to fill in the consignment notes manually! It's exceedingly convenient as we want to go contactless and you can save time.
From Me & To Me: Like the "Track & Trace" feature, you can live track the whereabouts of your shipments; either it is sent to you, or from you!
Find Us : We have over a hundred City-Link branches nationwide! Simply type in your location and the nearest City-Link Express branch will be suggested for you. For your convenience, we will be adding more branches, drop-in centres, and Pickup & Drop-off points in the future.
E-Shop : City-Link Express brings the E-Shop as well to the mobile app. Customers are able to purchase City-Link prepaids, shipping materials such as boxes and plastic flyers, and even City-Link souvenirs! All for your satisfaction and comfort.
All in all, City-Link Express has successfully move on to a whole other level in digitalizing everything from Ship With Us, to its E-Shop. Everything one would need for shipping convenience has been offered via this mobile app. Our objective is to provide simplicity to our beloved customers. We are expanding more features on this mobile phone app, and we are looking into a more simplified and convenient tool – especially for payment, pick-up and online consignments, more promotions, giveaways and cost saving.
So, go download the app now!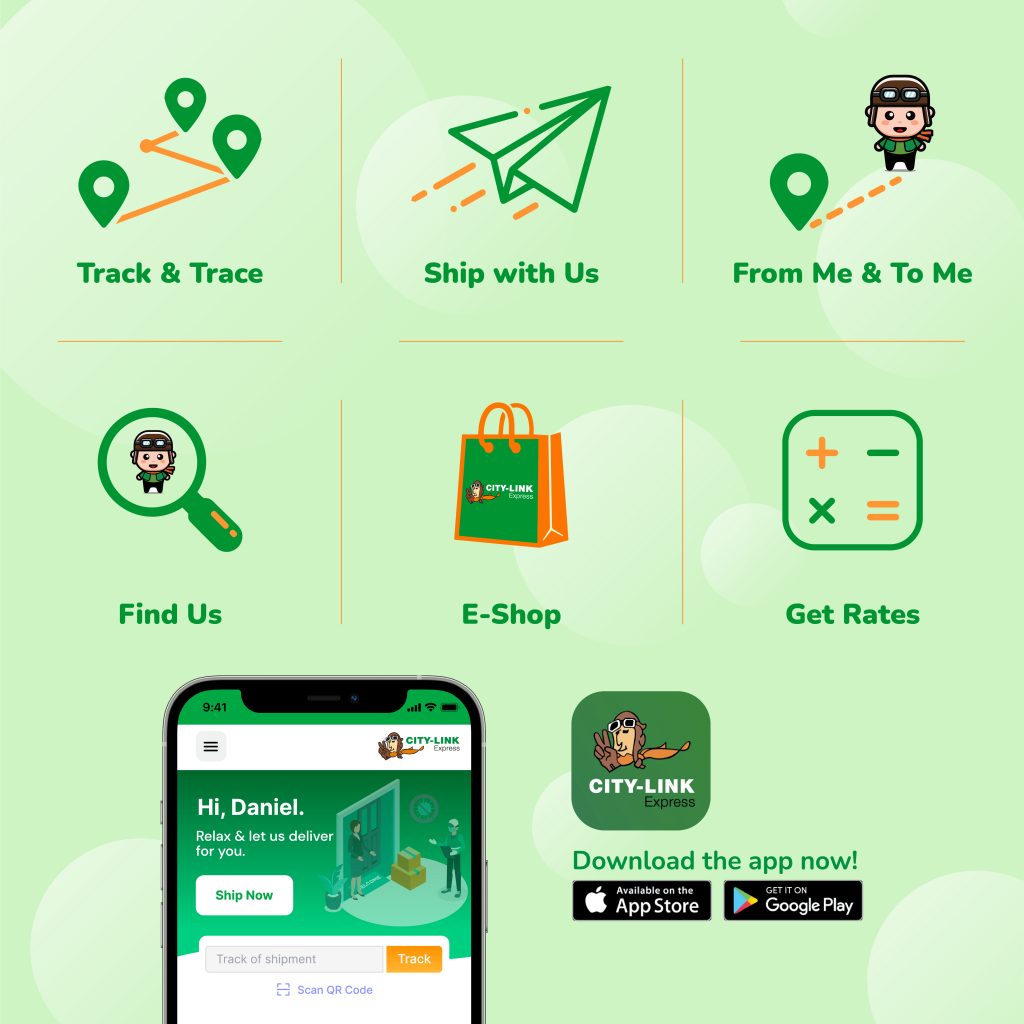 #CityLinkExpress
#CityLinkHeroes
#mobileapp
#android
#IOS
#ecommerce
#digital